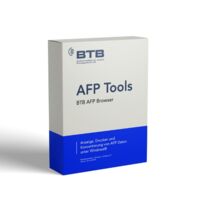 BTB AFP Tools - Display, print and convert AFP data in Windows®
Operation systems Windows 7, Windows 10
Version: 32 und 64 bit

In WYSIWYG, BTB AFP Browser displays the AFP data produced by the system as a printout on an intelligent workstation. Access is to exactly the same data, which is also output to the printer, so that no data-side overhead is generated.

Quick access to information that your customers have in paper form, without having to access printed information yourself, increases productivity and customer friendliness immensely.

BTB AFP Browser is available as a real 32bit Windows application and runs under the most widely used platforms - Windows® Windows 7 // Windows 10 (32 and 64 Bit) - in the client area. The application has a modern graphical interface, which can be adapted to the individual preferences of the user. Navigation within the document is done at the page level. Zoom functions and the display of multiple pages at the same time are self-evident.

Additional productivity benefits are achieved by integrating this AFP Viewing component into output management systems.
This version is a free, unlimited demoversion. It contains the full scope of the full version, but the text "Demo version" is also displayed in the background on every displayed or printed page.
---